Responsive design means using fluid grids, fluid layouts and media queries to adapt your website to fit in different screen sizes on today's web. Your website should be responsive in phone, tabs, desktop monitors etc. In today's digital world every website should be designed in such a way that it should be responsive. So, let's see how you can build a good responsive site. The design depends on the individual website, but there are some common patterns that are starting to emerge. Let's see some best practices to get a good responsive site from responsive web design in Dubai.
.

Tips for responsive web design
Use liquid layouts that can accommodate any screen size. Don't simply design one look for the iPhone/Android, one for tablets and one for the desktop.
Roll your own grids based on the specifics of your site's content. Canned grid systems will rarely fit the bill. The problem with canned grids is that they don't fit your unique content. Create layouts from the content out, rather than the canvas in.
Start small. Start with the smallest size screen and work your way up. Start with a narrow, single-column layout to handle mobile browsers and then scale up from there rather than the other way around.
Forget Photoshop, build your comps in the browser. It's virtually impossible to mock up liquid layouts in Photoshop, start in the browser instead.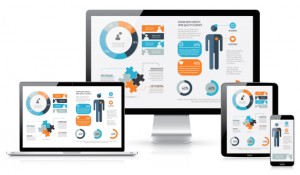 Scale images. For very large images, consider using something like responsive images to offer the very smallest screens smaller image downloads and then use JavaScript to swap in larger images for larger screen.
Use the respond or CSS3 media queries JavaScript libraries to bootstrap media query support into older browsers that won't otherwise know what to do with it. Starting with the smallest screen and working your way up means it's the desktop browsers that need to handle media, make sure older browsers work by using polyfills like Respond.
Embrace lazy loading. There may be items on your site, auxiliary content that's nice to have, but not essential. Load that content using JavaScript after primary content has loaded.
Responsive web design is becoming more important as the amount of mobile traffic now accounts for more than half of total internet traffic. Web design company in dubai help you to create good responsive web design dubai that fits in all platform. They generate responsive websites that fits in your computers, smart phones and tablets.They also have website designing dubai, that has expert panel of web designer in dubai who build eye catching websites. They also create wordpress website dubai, web development in dubai and website designing dubai.
Web designing dubai services: website designing dubai – web design agency dubai – responsive web design dubai – web design company uae – web designer in dubai – web development in dubai – responsive web design dubai – web design dubai – web design package dubai – web designing companies in dubai – website design dubai – website designers dubai – wordpress web design dubai – wordpress website design dubai – Web Development Dubai – dubai web designers – web design company in dubai – web design services dubai.