Web sites that are not well designed perform very poorly and the traffic to their sites seems very low. So when you create a website it should be well designed so that the user will stick on to your website and in turn increase your traffic. Here the web designers of web designing dubai gives you the principle of effective web designing which will help you in creating a website.

Purpose
Good web design always caters to the needs of the user. Each page of your website should have a clear purpose and should fulfill the need of the users. The information should be helpful for the visitors who are coming to your website.
Communication
Your website should have the contents that are easy to read and digest. You should design your website in an organized way. You should include headlines, subheadings, bullet points instead of long windy sentences, and cutting the waffle.
Typefaces
The ideal font size for reading easily online is 16px and stick to a maximum of 3 typefaces in a maximum of 3 point sizes to keep your design streamlined.
Images
A picture can speak lot than words. So choosing the right picture for your brand will help you to communicate with target audience. Also consider using info graphics, videos and graphics as these can communicate more that texts.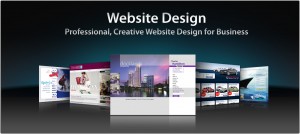 F pattern
Studies have proven that people scan computer screen in F pattern. Most of what people see is in the top and left of the screen and the right side of the screen is rarely seen. Effectively designed websites will work with a reader's natural behavior and display information in order of importance (left to right, and top to bottom).
Load time
The user will not have the patience to wait long time to open your site. So your site should be designed in such a way that it loads quickly. You can achieve this by optimizing image sizes (size and scale), combining code into a central CSS or JavaScript file (this reduces HTTP requests) and minify HTML, CSS, JavaScript (compressed to speed up their load time).
Responsive
Your site should be designed in such a way that it should fit in mobile devices. It should be responsive in mobiles, tablets and desktop.

Consider these tips while you create a website for your business. These tips are from the expert website designers dubai of web design company in dubai. web designing dubai is a leading web design company in dubai. They have excellent professionals who do their work in perfect way. Web designing dubai is one of the best web design agency dubai who creates responsive web design dubai and wordpress web design dubai which will make your business grow high. They also have web development company dubai, graphic designer in dubai, seo in uae, cms development and website designer.
Web designing dubai services: website designing dubai – web design agency dubai – responsive web design dubai – web design company uae – web designer in dubai – web development in dubai – responsive web design dubai – web design dubai – web design package dubai – web designing companies in dubai – website design dubai – website designers dubai – wordpress web design dubai – wordpress website design dubai – Web Development Dubai – dubai web designers – web design company in dubai – web design services dubai.