Google AdWords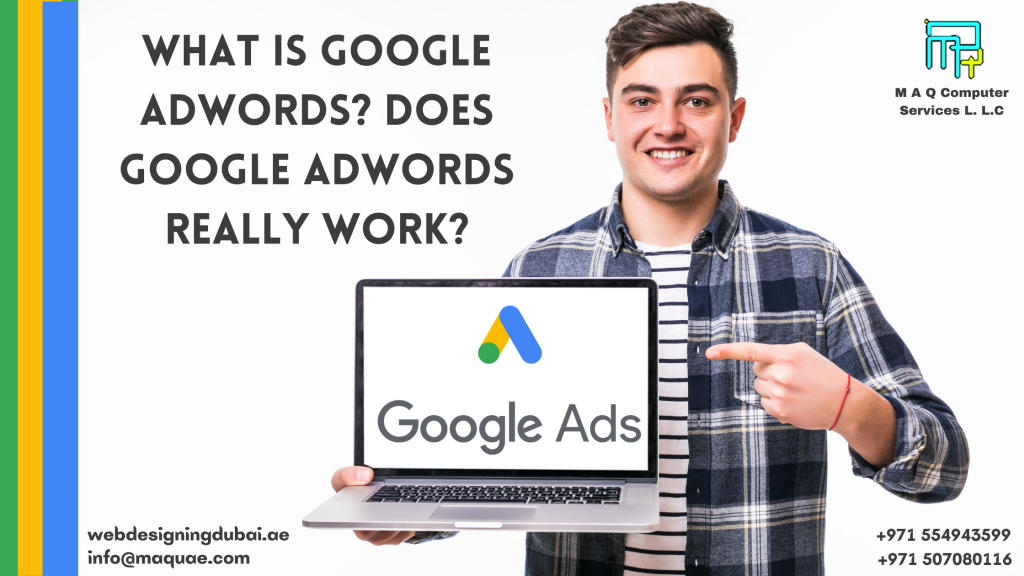 Google Adwords is an online advertising platform introduced by Google. Where advertisers pay to show you short ads, service offers, product listings, video content, and mobile app installation. Within Google Ads for web users. There are many PPC management Dubai companies that provide Google ads services.
Specifically, the two main ways you can advertise on Google are within the search and display network. In the search network, they are located above the organic search results in Google search. The display network includes a large network of web pages where your ad will be seen as a banner, graphic, etc. Indeed, Advertisers in the display network have the choice to pick the potential consumers with Google's strategic recommendations, re-marketing, by picking particular websites for their ads, etc.
Operates on:
PPC (Pay per click UAE)
PPM (Pay Per Mile/Thousands)
Types of Google Ads:
Search
Display
Shopping
Video
App
Smart
How exactly does Google AdWords work?
Google AdWord services depend on your business and which country you would wish to target, Google Adword policy will change based on different countries. Before launching a Google Adword campaign in UAE or outside UAE you should know Google's ad policy as this will benefit you with your business and unnecessary costs.
For example, if you are conducting a medical-related campaign you will demand to obey the Google Ads policy of UAE or other countries. Otherwise, Google does not allow your ads which means you are wasting your time. In contrast, always follow Google guidelines that corresponding to your business.
Google AdWord gives valid leads or sales for your business.
Also, you can improve your business with google ads and target your potential buyers in a very short time.
Equally important, to generate business and sales from Google ads, We would recommend you always hire a Google Adword expert as they have good experience and provide you leads at a pretty cheap price. If you use Google ads without understanding fully about Google Ads, you may waste your money due to a lack of information and experience.
Furthermore, Google AdWord is adopted by small businesses and large businesses and they get a good ROI (Return On Investment) for their businesses.
The main disadvantage of Google ad & other PPC management Dubai platforms is that if you spend on google ads you will get a business or your ads will show up but when your amount ends then your ads will not be advertised by Google.
In fact, do not rely too much on google ads as we have to use other digital marketing channels for your business. Instead of going for Pay per click Dubai campaigns like Google ads & facebook advertising Dubai etc We can use Social media marketing Dubai, SEO UAE, and much more. These channels also help you to get business.
So, hope this will help you!
Summing-up
Are You stuck with Google Ads,  Don't Worry!!! We are M A Q Computer Services LLC | Web Designing Dubai. One of the Leading Google ads company in UAE. And Digital marketing companies in Dubai builds optimal Google ads support to your business. Give your ideas to us. We will Make it Live. Already have a Google Ads account Transmit it to us. We take care of all the operative aspects of your ads. No Hidden Cost. Get optimize. Call us anytime at +971 554943599 / +971 507080116. Visit: www.webdesigningdubai.ae to get our services or to get a free quote.