E commerce in UAE is growing day by day. More and more people are starting online websites in Dubai and sell their products or services online. E Commerce in UAE increased in recent years. More people prefer to buy products online to save money, time and get more discounts. Here we are going to discuss about ecommerce web design dubai.
The projection in Ecommerce Business is growing faster at more than 30% per annum in UAE.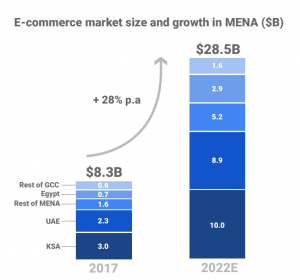 The market size of ecommerce business in MENA is excepted to reach $28.5 Billion in 2022 as compared to $8.3 Billion in 2017.
It grows at 28% per annum, with more projection in Saudi Arabia and Dubai.

Starting an ecommerce website in UAE is easy. First thing is like every business, you must have a trade license. Business owners with trade license can start ecommerce website in UAE for their business activities. If you have a trade license to operate business in UAE you can get ecommerce web design Dubai from any web designing companies in Dubai .
An Ecommerce Business License can be obtained from any Freezone Authorities in UAE. Internation Free Zone Authority (IFZA), Fujairah provides best ecommerce trade license packages from less than AED 10,000 per year. You can check more information from this website: http://www.ifza.ae/