Shopify is a CMS platform that assists entrepreneurs and business owners who want to begin an online store without the worry of huge upfront investments.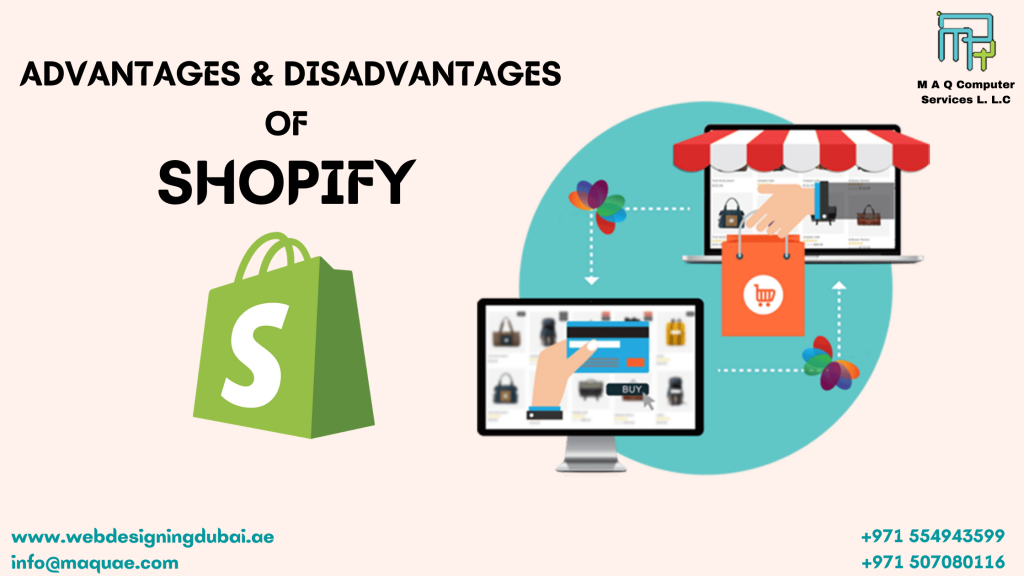 Building a store with Shopify is totally independent and count on your effort to improve your online business. However, Shopify is most suitable for small online retailers. Besides it is reliable and user-friendly, Shopify is the most reasonable platform for any business to start with.
Here is a list of several common advantages and disadvantages of Shopify.
Advantages Of Shopify UAE.
With its 'Lite' plan, Shopify serves as one of the most affordable ways to begin selling online using a hosted solution.
we access the abandoned cart storage for the 9$ plan. which means that this service does offer at a much cheaper price than its main competitors.
It's a great choice to anyone interested in dropshipping.
There are no transaction fees if you are comfortable using the built-in payment processing system, Shopify Payments.
It has a neat interface and is simple to use.
Lite Plan's 'Buy Button' lets you utilise Shopify to easily sell products on an existing website.
It offers a great list of free, responsive and engaging templates.
Point of sale options are exceptional and support Shopify to stand out from its competitors.
Shopify claims that more than 1,000,000 stores is been built using this platform, thus it gives a surety that it a secured company It Will not dissolve instantly. So as your online store.
You can easily expand Shopify functionality with the use of a large list of third-party apps. Despite the fact, you'll have to pay to utilise most of them.
Shopify manages the formation and implementation of product categories very well.
VAT MOSS rates do automatically measured and enforced by Shopify.
The Shopify Buy Button enables you to use Shopify with an existing website set up using a different platform. for instance WordPress, Squarespace, Wix or Jimdo.
Shopify arrives with an inbuilt blog.
You can generate AMP types of product pages 
Both iOS and Android apps have given so you can run your store on the go.
You can purchase an existing Shopify store utilising Shopify's Exchange Marketplace.
You can get a free two-week product trial.
You can create 100 product variations, this can only include up to three product options.
Some key functionality that you expect to be delivered out of the box needs app installation.
Adding custom fields like textboxes or file upload options, which we can do, but it is unessentially complicated or includes app purchases.
Performance reporting technology is only rendered for more costly plans.
No longer official Mailchimp-Shopify integration is available.
Shopify stores only allow you to trade from several countries. If you desire to sell from a different country you will require to apply a third party payment gateway.
You cannot evade transaction fees if you are using a third-party payment gateway.
There is no system to automatically verify that product images happen to shown using the same aspected proportion. This can lead to the unpleasant display of your products in case you are uploading all your photos uncropped in Shopify.
It would be great if the abandoned cart saver permits you to send more than one computerized tracking emails.
While utilising the dropshipping app on Shopify, it's tough to be certain that the goods you sell do produce in the right way.
Their cheap Shopify Lite plan of $ 9 does not allow you to build a fully integrated online store.
It is not an easy job to export blog posts from Shopify.
Conclusion
To sum up, establishing your brand-new Shopify UAE store can be complex for beginners. You might not be perfectly aware of all the elements and that drives you to waste much of your precious time. In that case, it's better to prefer an E commerce website development Dubai company that will build the store for you as per your conditions.
For additional support, you can obtain the services of M A Q Computer Services LLC | Web Designing Dubai. We are a complete Shopify developer Dubai company that gives absolute solutions to your business and will lead you in every step in setting up your Shopify store.
Over and above, you can also get digital marketing Dubai services to immediately boost your Shopify Dubai store sales. To obtain our services or to get a free quote, visit: www.webdesigningdubai.ae or call @ +971 554943599 / +971 507080116.