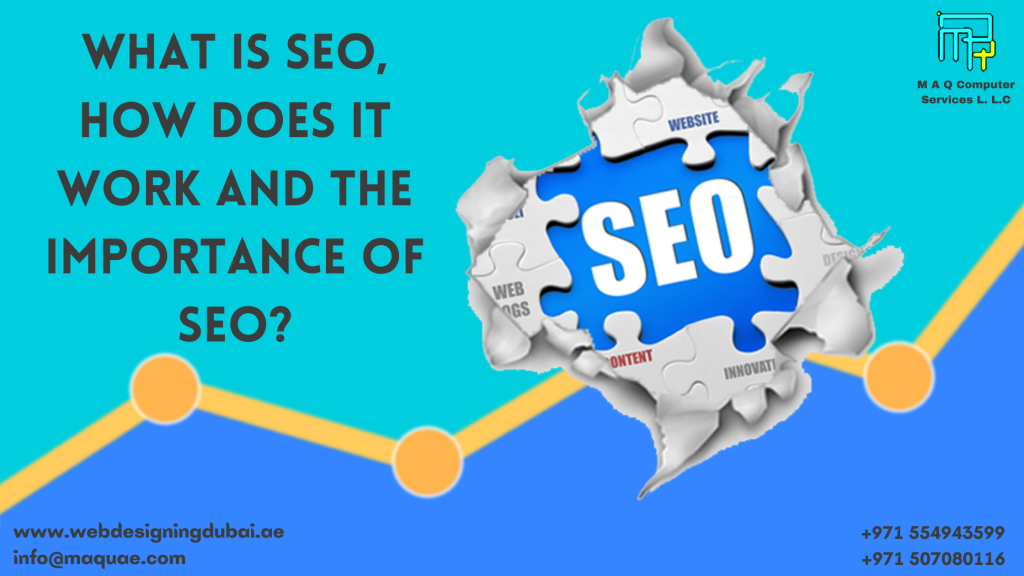 What is SEO:
SEO stands for Search Engine Optimization and defines the concept behind the rankings of websites when you make a search on an appropriate search engine (like Google). In short, SEO UAE can interpret as a digital marketing strategy that supports increasing the amount and quality of traffic to your site.
The optimization section of SEO contains a sequence of steps you can exercise to improve the rank on Google and consequently get free organic traffic.
How does SEO work?
During a user searches for a term in a search engine like Google. The results presented to the user is a list of websites. Those are connected to the query and websites that hold solid domain authority.
For example when searching for 'best shoes in UAE'. The first results are the ones that use the best SEO techniques & methods in the eyes of Google.
This is because search engines use advanced crawlers that collect information across all websites, collecting all the content you can find on the Internet. That produces an index for all websites compared & analysed to Google's algorithm with excellent SEO practice.
Growing visibility and ranking:
It is one of the most important purposes of SEO. Your site will begin to appear on the first page of search engines which indicates that visitors can surely find your website whenever they search for something you offers.
It is a Long-Term Approach:
SEO starts to show its result on your website within the first year of the SEO steps exercised and this effect will last for many years.
In addition SEO of the website provides a better and longer persistence in it to compete with its competitors to continue in the market for several years.
To Develop Trust and Credibility:
It helps to build a solid establishment for your website with an efficient and decent user experience with the visitors and customers who visit your website.
It Produces Better Visitor Experiences:
Creating better content and developing site ranking through the SEO process always improves website usability.
Which results in creating a positive and better customer experience for consumers and visitors.
Provides Excellent ROI:
Return on Investment (ROI) is what those clients want today with a modern marketing strategy. And SEO has the highest marketing power on any website.
Conclusion:
SEO has become an important factor in playing a key role in creating any website a top brand. Using the highest quality SEO on a brands website will always be beneficial in increasing the visibility of that brand.SEO UAE is very complex. Browsing an SEO Dubai agency is very complicated because you can't tell which one is good and the bad.
If you choose to work with an SEO company Dubai, M A Q Computer Services LLC | Web Designing Dubai is one of the Best SEO company in Dubai. we would be honoured to talk to you to see what your needs are and how we can help your product to achieve its goals. Our SEO experts will help you succeed with the SEO of your website. Call us anytime at +971 554943599 / +971 507080116. Or visit: www.webdesigningdubai.ae to avail of our services or to get a free quote.