Magento is an extremely flexible open-source e-commerce application with unlimited potentialities for e-commerce business profitability. In simple terms, Magento is perfect if you want to develop an E commerce website Dubai, UAE on your own or hire the best magento developers Dubai, UAE to build it. Indeed, it is open-source which indicates it is accessible for everyone to download. You can later enlarge it and customize it according to your needs and preferences.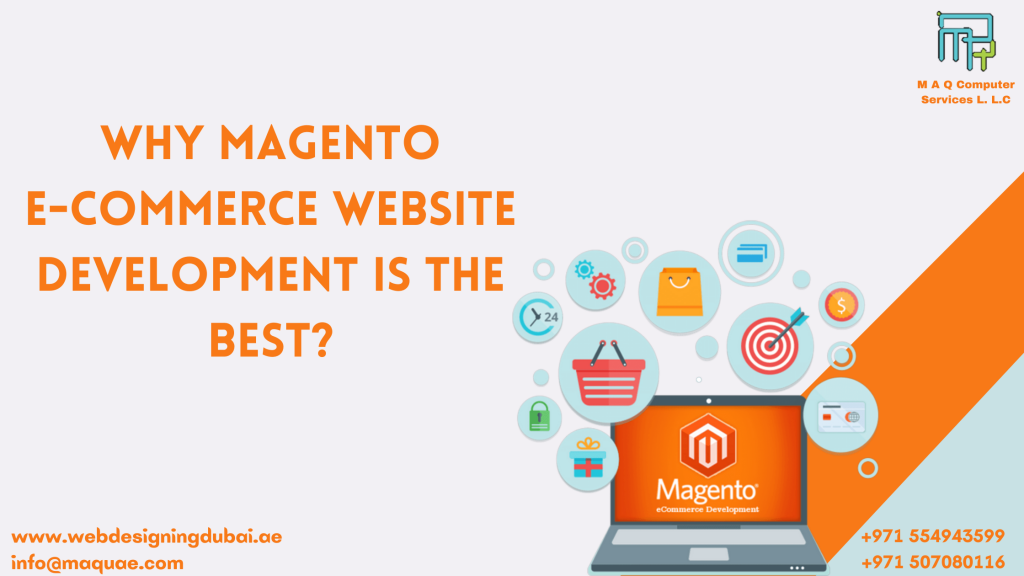 Here, we have mentioned several reasons why Magento is the star in e-commerce website development.
1, SEO Friendly
Magento automatically creates meta descriptions and recommends SEO friendly URLs for your web pages. With Magento, you don't have to bother about generating them yourself.
2, Mobile friendly
Magento is a compelling platform that is designed to match with the mobile web standard design. Also, being fully responsive to mobile, it brings the best user experience to smartphones, tablets and other mobile gadgets.
3, Customizable Easily
Everything created utilising Magento can be customized easily, including the normal look of the website, the configuration of specialities and products, payment and shipment options, language options, Content Management System (CMS) and more.
4, Provide Rich Plugins
It gives a broad mixture of functionalities in the form of plugins. Thus, these plugins can be used to design and customize the various characteristics of your eCommerce website, along with payment processing, accounting, shipping and more.
5, Help in driving conversions
Magento does compose particularly with e-commerce in mind. Hence, it offers a segmentation option that assists you to identify potential buyers based on their purchase history. Moreover, with Magento, you can quickly improve the user experience by establishing products recommendations, offering upsells and cross-sells on stocks and checkout pages.
6, Comfortable third-party integrations
Magento has enough power to meet the demands of your unique business. Also, Being highly extensible, it is a cost-efficient approach for your developing business in the long race. likewise, it can efficiently connected to other websites or platforms like Paypal, Google shopping, Amazon, QuickBooks and more. Furthermore, it gives you the ability to integrate data analytics and business intelligence tools into your eCommerce solution.
Summing-up
Do you confused that it would be a great choice for your e-commerce business or not, being a web design company Dubai, we suggest you to continue with it. We have worked with many brands and developed websites in Magento. Magento ecommerce web development Dubai, UAE Provides numerous choices for customization and all of which produce amazing and immeasurable results.
M A Q Computer Services LLC | Web Designing Dubai provides the ultimate web design services Dubai, UAE where businesses can get the appropriate solution. We offer professional web design packages that allow our clients to get reliable web designs that portray the company or brand. We have top-notch designs and updated the market requirements. Thus, web design Dubai, designs the websites incorporating the key features. To obtain our services or to get a free quote, visit: www.webdesigningdubai.ae or call @ +971 554943599 / +971 507080116.