CRM is really about tracking and examining customer and company intercommunications. CRM is a great secured tool, which integrates and simplifies customer interaction. For any business, big, medium or small should do CRM Application Development is a must. This software has grown must essential in recent times as teams work remotely and tracking sales and leads have become a major problem for managers.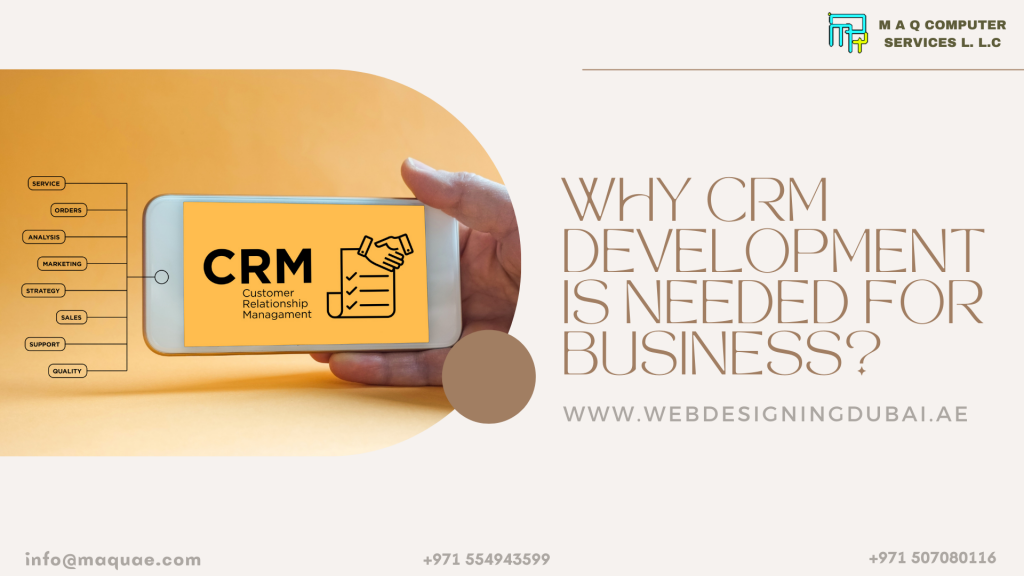 Below are several reasons why business CRM development is now a must:
Think About The Future Of Business
CRM implements effective access to maintain the business. A sales manager may have access to an important sales reporting tool. It allows him/her to identify the activities of different vendors. And track the number of issues that may influence business income. Such as lead conversion rates, customer calling activity, closing opportunities, etc. A sales manager can track marketing campaigns and various exercises.
Enabling Business Growth
Indeed, testing is actually a combination of several manuals and automated functions available on all different channels resulting in an occasion or lead. In addition, businesses in UAE can utilise CRM software Dubai to get website leads, email campaigns, conferences, and send leads to the sales team. The business manager can then transfer the leads quickly to the representatives to get the customer.
Gain More With Small Resources
With automated marketing, you are more likely to get long-term confidence. Besides, that may not work well with the resources of the company. People's capacity to handle a growing number of jobs, crises, communications, occasions and information can be at stake if there are no proper tools. Hence, CRM is an important component of handling these complex operations to increase the productivity and profitability of existing resources.
Customer Understanding
Customer familiarity is actually a process of integrating a business product or service, also a customer engagement method to match a customer's business. For many companies, it is an efficient way to compete with the competitor business. CRM can assist in obtaining specific information and data about customers and their behaviour and assist in targeted advertising, marketing activities and product development.
Conclusion
In order to select the best CRM Dubai in proportion to your company. You initially want to define your business and functional requirements. You are also required to consult the concerned staff. M A Q Computer Services LLC | Web Designing Dubai offers the best CRM Application Development services in the present scenario. Which is in accordance with most of the business requirements of today's corporate companies.