What is WordPress: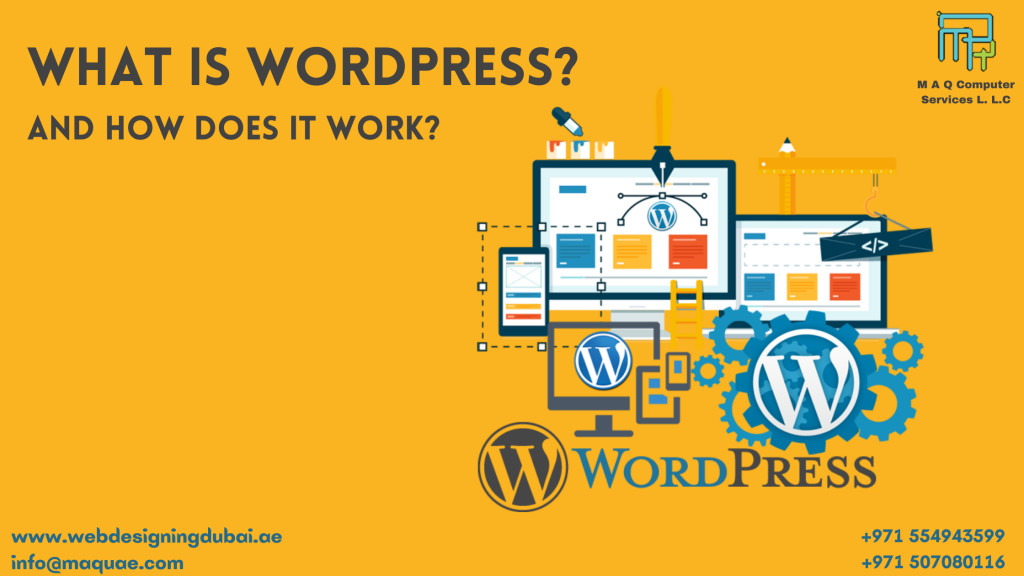 In most simplistic words, WordPress is a Content Management System (CMS) that enables anyone with the basic and essential knowledge of the web can create attractive websites. So if you can handle Facebook or Gmail then you can also create a simple and appealing WordPress website design Dubai.
So there is no need to study HTML, CSS, JavaScript, jQuery, PHP and all other programming languages or Hire a Web Designer or Web Developer If you want to build a manageable basic website or Blog.
With minimal knowledge, WordPress will restrict you by only creating a basic blog or website where you can only share information with your visitors.
But if you require to do something advance with WordPress like Professional Blogging, Selling Stuff, Making a Corporate Or eCommerce Website then you need to acquire all those Skills or Hire a Web Designer and Developer. As they help you to save a lot of time and money.
How it Works:
It uses a template structure and has two principal parts:
1. Themes
2. Plugins
The WordPress Themes:
They are primarily a set of PHP, HTML and CSS files that determines the primary Look and functionality of your Website. Also, permit you to quickly change the look of your website by switching themes.
Only one Theme works on a WordPress Website at a time and All WordPress site has at least one theme.
Enables you to customize the look and components of the website
It determines all the front end styling and markup of your Website
It can be divided into two parts, free themes and premium themes.
The WordPress Plugins:
Applied to increase the features of your website. Using Plugins you can add/Integrate features to your site such as SEO, Google Analytics, Security, Caching etc
While a WordPress website can have multiple or zero active plugins at a time. The most website has 10-30 Plugins Running depending on the requirements of the site.
Enables to extend Website features ahead of standard WordPress site
Enables you to build around any sort of Website by expanding the features. For Example E-Commerce Website, Social Network, Community Forums etc.
It can be divided into two kinds, free Plugins and Premium Plugins.
Conclusion
In conclusion, the above-discussed features are pretty reasonable and enough to place it among the most famous CMS. Being a most popular CMS, it is powerful to get assistance from the different organization which transforms it from a blogging platform to a fullfledged website building tool to an E-Commerce website building tool.
So if you are looking to build a professional and advanced WordPress website in UAE it is sensible to go for a WordPress website design Dubai company. Thus a professional and experienced web development companies in Dubai will help you to save a lot of time and money by creating the WordPress website as per your requirements.
M A Q Computer Services LLC | Web Designing Dubai provides the ultimate web design services Dubai, UAE where businesses can get the appropriate solution. We offer professional web design packages that allow our clients to get reliable web designs that portray the company or brand. We are well familiarised with the professional designs and the market demands, thus, web design Dubai designs the websites combining the key features. To obtain our services or to get a free quote, visit: www.webdesigningdubai.ae or call @ +971 554943599 / +971 507080116.